Six Centuries of Spectacular Song
Hilary James with Simon Mayor, Elias Sibley and Florence Petit
Buy tickets
Adults: £13, Concessions: £11
Telephone sales cost an additional £1.50:
call 0333 666 3366
Friday 23rd September 2016 at 7.30pm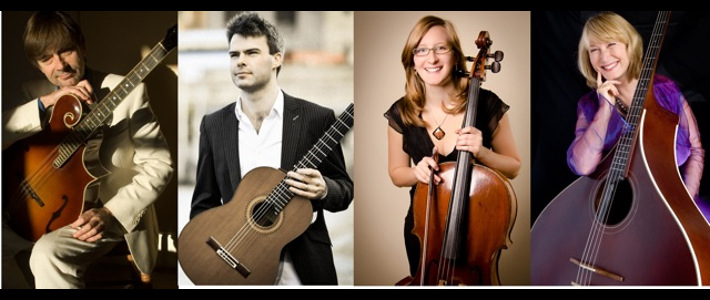 Hilary James and friends Simon Mayor, Elias Sibley and Florence Petit explore six centuries of song, with more than a few show-stopping instrumentals on mandolin, fiddle, 'cello, guitar and ukulele - and of course Hilary's own unforgettable bass mandolin.
Hilary James, the 'silver voiced' songstress with the mighty mandobass, is joined by ''hot-fingered mandolin' virtuoso Simon Mayor and two outstanding, young musicians Elias Sibley and Florence Petit for a sparkling evening of folk, swing, ragtime and classical showstoppers. Elias and Florence wowed the Newbury audience when they joined Simon and Hilary's Mandolinquents at the Arlington Theatre last year. After a couple of spectacular tangos and rags they finished the evening with the Mandolinquents in Mozart.
Elias Sibley is one of the finest finger-style ukulele players of his generation as well as a superb classical guitarist. He combines the ukulele's traditional characteristics with the guitar's qualities as a solo instrument. From Bach to the great American songbook Elias takes the ukulele to a new and exciting dimension. He also brings some fine guitar fingerwork to accompaniments to the cello, mandolin and voice....and not forgetting Elias's love for the classical banjo - taking ragtime to a new dimension!
Franco-British cellist Florence Petit is an innovative and exciting young musician with a warm, engaging stage manner. Currently touring with the South Bank Sinfonia she managed to squeeze in an evening to play for us at Progress. She studied cello with Philippe Müller in Paris before moving to London to complete BA and MA degrees at the Royal College of Music, graduating with first class honours.
The recipient of a diverse host of awards and in demand as a soloist, Florence has a regular programme of recitals throughout the UK with the acclaimed Franco-Taiwanese pianist Lysianne Chen. She is a founding member of the Leben Quartet and a fine exponent of Baroque music, playing across Europe and the UK with her quartet Ignis.
As an orchestral musician, Florence has performed extensively with chamber and symphony orchestras across Europe, most recently with the Montpellier National Symphony Orchestra and with the English National Opera as part of their Evolve scheme.
Florence is passionate about discovering neglected chamber repertoire and exploring interesting instrumental pairings. With this in mind, Florence formed Duo Dekacord with guitarist Elias Sibley and the duo has developed an eclectic repertoire for their unusual pairing of instruments, from arrangements and transcriptions of popular classics to original works by 20th century composers.